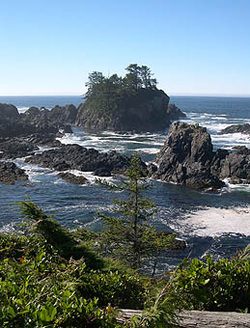 Whether you are curled up in front of the fireplace or out skiing the local hills, winter on the west coast can be exciting.
As the weather here on the west coast is not like any other place in the world, you can expect to have mild temperatures and little snow at the lower altitudes.
We usually see one or two snowfalls each winter and normally the snow doesn't last more than a day or two. Higher altitudes can see a lot more snow and it can last for months. We do see more than our share of rain, but at least you don't have to shovel it.

Winter Gardening
Winter gardening is summer planting for winter harvest.
In our mild Coastal climate we can grow some vegetables all winter without protection. You can eat these plants throughout the winter, so they need to be full size by about Halloween. Until Valentines Day, plants grow very slowly and do not re-grow after harvest as they might in the summer. The greatest challenges are rain, low light levels and temperature swings.

Overwintering is summer planting for spring harvest.
This is a different concept from winter gardening. Overwintered plants go into the cold season as "teenagers," waiting for the lengthening days of spring to finish growing. Certain varieties of onions, garlic, cauliflower and sprouting broccoli need this extra season to develop fully.

Typically, overwintered vegetables need to have some growth achieved before winter frosts—but they keep growing without being covered. In the early Spring, their growth rates speed up, and they are ready to be picked.

With some planning, overwintered crops can be combined with winter gardening and regular spring/summer gardening to provide fresh vegetables all 12 months of the year.

Winter Storm & Surf Watching
Thundering surf, huge rolling swells, miles of secluded beaches, gulls floating on the ocean breezes ... just you ... experiencing heaven on earth. During late fall and winter the West Coast takes on a new life ... the ocean captures raw energy and movement begins ... The air becomes cool and a mystical fog plays over the towering forest and restless sea.

Some say it is the finest time to experience this magical coast, to spend time alone, taking time to sit on a log and gaze across shimmering waters that blend into an endless blue sky.

Looking for adventure ... The West Coast of Vancouver Island offers an excellent surf beach, paddle and kite surfing, Bring your kayak or rent locally. Hike for miles, and become one with the exquisite natural environment. Bring your camera for those special storm shots while beach combing the Pacific Ocean.