Adhesive Stains
Adhesive stains on the walls from hung posters used to be hard to remove but now removal takes a few seconds with a small amount of WD-40. Rub WD-40 on the affected area, allow to sit and scrub lightly with a piece of cloth to get the adhesive residue out.



Bathroom Sink
To clean vitreous and porcelain enamel use a mix of Borax and lemon juice rubbed onto any stains and rinse off with warm water. If you have any blue-green stains from a leaky tap, get the tap fixed as a first step and then place the borax paste on the stain, leave for 5 minutes and then gently scrub off with a nylon scourer. Rinse off with a clean warm water and buff dry.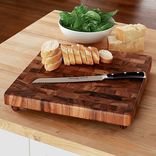 Cutting Boards
Wooden cutting boards can be cleaned with a mix of lemon and coarse salt. The acidity of the lemons help remove bacteria and give the board a fresh scent while the abrasive nature of the salt helps remove gunk. For plastic boards, you can soak them in a water and hydrogen peroxide mixture. Allow to sit overnight and rinse well to remove the bleach odor.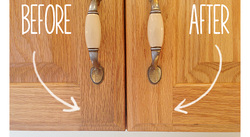 Doors
Depending on the type of door and the door jam, the most successful cleaner of doors is a clean cloth that is used in conjunction with an environmentally friendly surface cleaner to get rid of dirt, marks, dust, grease and grime build-up. For heavy buildup of the former I use the baking soda paste to clean the area first and then I usually run a cloth that has been sprayed with eucalyptus spray or the environmentally friendly mix of eucalyptus oil and water or tea tree oil and water.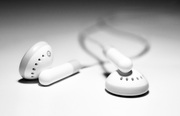 Earbuds
Regular use of earbuds usually result to a dirty, yellow color on the buds and cords. Dampen a Q-tip with alcohol and lightly rub over the surfaces you want to clean. Use a small amount of alcohol since this can also damage electronics when used the wrong way.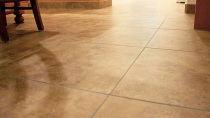 Floor Grease
You'll need a solution of 1/4 cup white vinegar, 1 tablespoon liquid dish soap, 1/4 cup washing soda, 2 gallons of very warm tap water mixed together in a bucket.



Garbage Bins
To keep the garbage bin smelling great use 5 drops of tea-tree oil in a bucket of warm water, use a scrubbing brush to clean the inside of the empty bin and then in the final rinse add 2 drops to the bottom of the bin and rinse out - this will keep it smelling fresh rather than dank and yuck-smelling.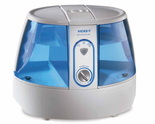 Humidifier
You'll want to run white vinegar through it, but outside (because vinegar is stinky). You could also use a solution of hydrogen peroxide.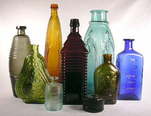 Irregularly Shaped Bottles
Fill the bottle with raw rice, a little water, and a little dishwashing soap. Cover the top and shake.


Jean Stains
Just use alcohol-free face cleansing wipes.

Keurig Coffeemaker
Fill the water reservoir about halfway with vinegar. Run a cycle through without adding a filter or k-cup. Then run two cycles of water through to get rid of the vinegar taste/smell.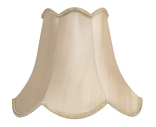 Lampshade
Use a lint roller to get the dust off.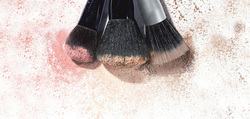 Makeup Brushes
Clean them with baby shampoo. Once you've rinsed them well, hang them up to dry using a hanger and binder clips. This way the water doesn't drip back down into the handles, which will harbor mold and make the bristles fall out.

Nail-Polish Stained Carpet
Pour on rubbing alcohol and gently rub with a microfiber cloth.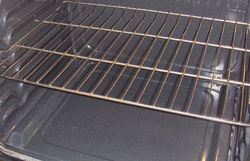 Oven Racks
You'll need 6 dryer sheets and 1/2 cup of dishwashing liquid. Place oven racks in the bath tub and fill with HOT water until racks are covered. Add about 6 dryer sheets and 1/2 cup of dish soap. Let sit overnight. Remove any remaining buildup with the dryer sheets. You may want to do this right before you plan to clean your tub.

Paintbrushes
Soak them in vinegar for 30 minutes.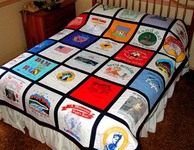 Quilts
Hand-washing is the preferred method for cleaning quilts. Even with a new quilt, machine washing can cause stitching to ravel. If you decide to machine wash, use cold water, a gentle detergent and the shortest, delicate cycle.


Rusty Loaf Pans
You'll need baking soda, water, a scourer, and oil. Sprinkle baking soda on and leave for about 30 minutes. Scrub with a scourer. Coat in oil so it doesn't get rusty again.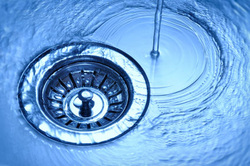 Sink Drains
These can be kept clean by dropping two drops of tea-tree oil or eucalyptus oil down the sink hole. For really smelly sink holes Fill up a 1 litre jug 2 tablespoons of bicarbonate soda in 750ml white vinegar and pour it down the sink. Leave overnight for at least 30 minutes, then clear by running very hot water down the drain the next day.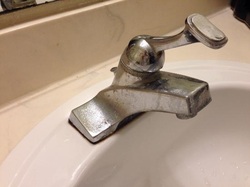 Taps
Use a toothbrush to dislodge the residue around the taps. For hard to shift residue try using borax with lemon juice paste around the base of the tap. Use the toothbrush to clean, then rinse off with warm water.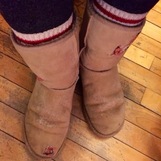 Uggs
By the end of winter, chances are, your Uggs are covered in water and snow stains. You'll want to go over them with a stiff brush. Then, use a slightly damp washcloth to rub over the stains.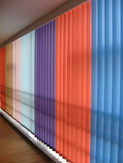 Vertical Blinds
Use a rubber sponge, also known as a dry sponge (found at hardware and paint stores), to remove dust and residue from both fabric and vinyl blinds. Simply wipe the dry sponge firmly across the blinds. 5. For spot cleaning, spray an all-purpose cleaner onto a clean dry cloth and wipe the soiled area of the blind.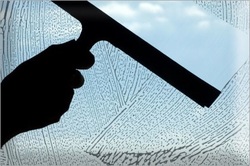 Windows
To clean glass windows mix-up the following; 1 tablespoon of environmentally friendly dish washing liquid added to 6 Litres of water, or pure soap flakes dissolved in hot 6Litres of water, add 50 ml cloudy ammonia and 1 cup methylated spirits. Pour the solution into a spray bottle and spray onto dirty surface. Wipe over with a damp sponge or microfiber cloth .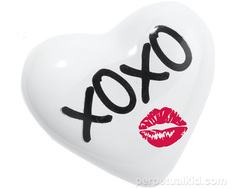 Xoxo
Lipstick stains can be cleaned off with hairspray. Spray the spot with hairspray, let it set for 10 minutes, dab with a damp washcloth, and wash as normal.



Yellowed Pillowcases
That yellow stuff is SWEAT and DROOL if that doesn't compel you to do this right now. Throw them in the washing machine using REALLY HOT water, 1 cup of laundry detergent, 1 cup powdered dishwasher detergent, 1 cup bleach, and 1/2 cup borax.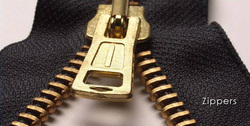 Zippers
Keep your zippers operating as they should, by giving your zippers a regular clean you will avoid having them stick. Simply brush white vinegar down the back and front of the zipper – the acid in the vinegar should dislodge whatever minor morsels of dirt were blocking your zipper. This will also work on a zipper that is already stuck and not working properly