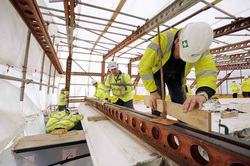 Myth #1: "Construction work is just slinging tools.
"
The construction industry needs smart people who can create, plan and communicate. People in construction use advanced technical equipment and work in professional teams of highly skilled workers. The industry is always in need of strong leaders and great contractors. You can work your way up to become a supervisor, or learn the business and start your own contracting company. You can also become a trainer and help build the future of Canada's construction industry.
Myth #2: "You need a university degree to get a good job."
It's true that you need more than high school for most jobs, but you don't have to go to university. According to
Skilled Trades
, only about one job out of ten requires a university degree. Many more opportunities are open to people with construction
certification
or diplomas from colleges or vocational and technical schools.
Myth #3: "People end up in construction because they have no other career choices."
Many people choose construction because they like the work and enjoy the challenge. To work in construction, you need specialized skills that are rewarding to learn. You get to work with your hands as well as your head, and you can see the results of your work and take pride in how it improves your community.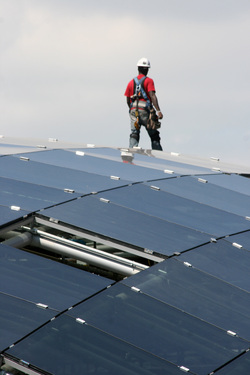 Myth #4: "Construction is an ordinary job that nobody respects."
There's nothing shameful about building world-class skyscrapers or bridges. People in construction are rightly proud of even common work like a perfectly finished kitchen floor. Construction is important to our economy and our communities. Think about it: the industry touches almost every aspect of our lives. Our homes, offices, hospitals and schools, our bridges, roads and sidewalks– even the plants that process food and build cars – are built by people in the construction industry.
Construction jobs pay well and
the number of jobs is increasing
. That means skilled workers will be in high demand and good jobs should be available for years to come. Because you can train on the job, you can start earning right away.
Myth #5: "Working in construction is dangerous."

It's true that many people in construction work with heavy equipment, power tools and electricity, sometimes on high buildings. But
on-the-job safety
is always the first priority, and every province and territory in Canada has strict safety standards for construction projects.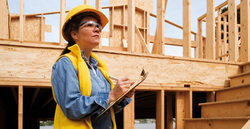 Myth #6:
"Construction workers are mostly men with little respect for women workers."
The wolf whistle disappeared decades ago. Today, men and women work as respected members of the same construction teams and earn the same rates. There are more and better-trained women in the industry than ever before and their skills are valued by employers and co-workers alike.
For more information, check out Canadian Construction Women.

Myth #7: "Construction work pays poorly."
Construction workers often earn more per hour than university graduates, and the average construction worker's annual salary is higher than the overall national average. If you start out in the construction industry as an
apprentice
, you can earn while you learn and avoid the student loan debts many college and university graduates face.
For more information, check out the salary ranges listed for specific trades and occupations on the
Pick a career
page.
Myth #8: "Construction is only done during the summer."
Modern construction is a sophisticated, mechanized industry that pays little attention to the season. With today's equipment and techniques, projects of every kind continue throughout the year. Depending on the trade or occupation, many people in construction careers work almost entirely indoors. Even huge, mostly outdoor projects like the heavy industrial installations in Alberta's oil sands, or the Olympic construction at Whistler in British Columbia, carry on in all but the worst winter weather.