Beautify your Yard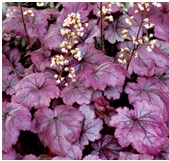 Integrate Your Plants
Vegetables and herbs have a place in the flower garden. Use herbs to edge the beds and borders. Variegated mint arrives early and stays late. "In the garden, integration is the key. The mint's aroma wafts on the breeze when visitors brush against it, and the chefs in the garden's restaurants snip sprigs to flavor the day's fare.
Play Up Texture
Pay attention to foliage texture, as well as colour. For example, purple heuchera makes a lovely contrast against 'Burgundy Glow' ajuga and gray-blue stones.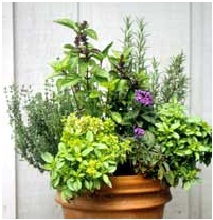 Put Trees and Shrubs in Pots
Don't think container gardens are limited to annuals -- you can use trees and shrubs to make a bold impact. For example, ferny Sorbaria 'Sem' is a stunning partner for burgundy-leaf Red Majestic hazelnut.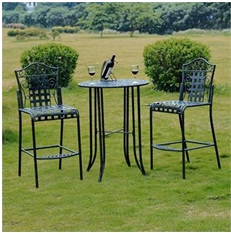 Plan for a Grand Entrance
Defining an entrance makes a big statement - Place two spruces ready to usher visitors into a hillside garden of slow-growing conifers and alpine plants. The evergreens are just big enough -- about 8 feet tall and 6 feet wide -- to play hide-and-seek with the meandering path that leads to a vine-covered garden folly.

Leave a Spot to Enjoy Your Garden
"Gardens are magical places, and there should be reminders along the way: pretty vignettes and little escapes." Whether they're used or not, a decorative table and chair invite contemplation. The invitation stands: Come, sit awhile, and smell the flowers, listen to the bird song, and watch the grass grow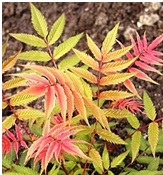 Grow Fragrant Herbs
Plant herbs in window boxes and containers so you can place them by your kitchen door or next to the grill so you can snip and tuck them into salads, soups, and sauces. They're a feast for the eyes as well as the taste buds

Let Nature Be Your Guide
A carved alpine pond in a hillside where frogs and toads join the chorus of birds splashing in the shallow water. "The trick is to work with the setting so the pond and plantings look natural. Lady's mantle and cotoneaster in the foreground and alpine firs and weeping Nootka false cypress in the background.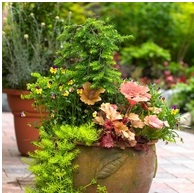 Don't Forget Containers
In early spring, long before the garden bursts into colour, pot up containers that bridge the seasons with bright foliage and subtle textures. Start with a weeping hemlock, then add a euphorbia or two. Next comes a sampling of Heuchera 'Marmalade' followed by a streak of Sedum 'Angelina'. "With foliage like this, who needs flowers.
Incorporate Curves
The secret to cultivating intrigue in the garden, always have a curve. You want to keep them guessing -- What's up ahead? What will I discover? You don't need a lot of space to achieve that.
Go with Rich, Dark Colors
Your garden will profit from the addition of plants with dark purple foliage that appears blackish. "Black foliage creates magical combinations in the garden. Look at these dark-leaved begonias and 'Bishop of Llandaff' dahlias."